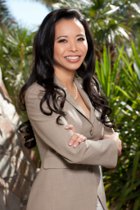 With nearly a decade of real estate experience, Sandy Van is a widely recognized Realtor in the Las Vegas valley.  She was named one of the Top 40 Realtors under 40 in both 2013 and 2014.  Over the years, she has earned an excellent reputation for customer service.
Working with her real estate team, her and her team can provide many benefits to their clients that solo agents cannot.  Her real estate team is constantly using cutting edge technology to obtain maximum exposure for their client's properties.  The back office support 
staff enables the team to provide a smooth transaction for listings and the escrow process. Passionate about her work, she is respected for her ability to successfully deliver projects, often on a tight schedule.  Her energy, enthusiasm and commitment, guarantee that her clients receive nothing but the highest quality of customer service and care.  Sandy has the keen ability to market properties using technology and traditional channels to ensure properties garner the marketing exposure that they deserve.  Furthermore, Sandy makes sure that all marketing and sales information is communicated to sellers on a timely basis.
Sandy Van makes more dreams come true, whether it is helping a growing family sell their home, or helping a young professional get started with their first property.  Her background allows her to think strategically and provide disciplined advice so that her clients can achieve their goals.   Her extensive experience has provided her great success in negotiating offers so that they close in a timely manner.
Sandy has lived in Las Vegas for the past 25 years and is very knowledgeable on the local real estate market.  She has distinguished herself as a top producer and she prides herself on working in all price ranges throughout the valley from Las Vegas to Henderson.
Our office offers all inclusive service for everything that you may need during the listing of your home.  From interior designers and contractors, to attorneys and home inspectors, we have got you covered.  Please feel free to contact us 24/7 with any of your questions, we look forward to working with you.  With best wishes to your success.